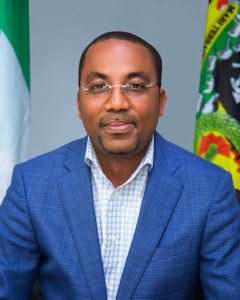 Mohammed Bello-Koko
Executive Director - Finance and Administration
View Bio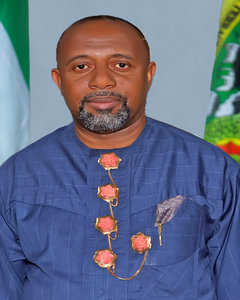 Hon. Onari Brown
Executive Director - Marine and Operations
View Bio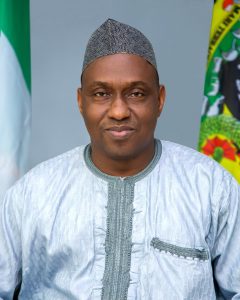 Professor Idris Abubakar
Executive Director - Engineering and Technical Services
View Bio
Hadiza Bala Usman (Managing Director)
Hadiza Bala Usman was born on 2nd January 1976 in Zaria Kaduna State, Nigeria.She started her education at Ahmadu Bello University Zaria Staff Primary School and went ahead to complete both her Secondary and Undergraduate Studies at the Ahmadu Bello University campus Zaria with a BSC in Business Administration from 1996 – 2000. She later obtained an MA in Development Studies from the University of Leeds, United Kingdom in 2008 – 2009.She started her career with Centre for Democratic Development and Research Training [CEDDERT] Zaria, a Non-Governmental Organization in June 1999- June 2000 as a Research Assistant. Following which she worked at the Bureau of Public Enterprise [BPE], the agency charged with the implementation of the privatisation programme of the Federal Republic of Nigeria from July 2000- August 2004 as an Enterprise Officer.She was then hired by the UNDP for the Federal Capital Territory Administration [FCTA] from October 2004 – January 2008 as a Special Assistant to the Minister on Project Implementation.From 2011 to July 2015 she was appointed as Chief of staff of Kaduna state an appointment she held before her appointment as MD NPA in July 11th, 2016.As a member of the All Progressives Congress Party [APC] she served on various Committees, key amongst them are:
Membership of the APC Strategy Committee from Jan 2014- December 2014. The Committee defined the Policy thrust of the Party and consequently developed the Party Manifesto.
Member/ Secretary of the APC National Elections Planning Committee – June 2014 – April 2015. The Committee developed and coordinated the Parties election winning strategies.
Administrative Secretary of the APC Presidential Campaign from Jan 2015 – April 2015.
Member of the Presidential Inauguration Planning Committee representing the in-coming Administration from April – May 2015.
In July 2015, she was appointed as the Chief of Staff to the Kaduna State Governor.
She was appointed in September 2015 by President Muhammadu Buhari to serve as a Member of the Presidential Advisory Committee on Anti-Corruption.
In April 2014, she co-founded the global movement #BringBackOurGirls which has been demanding for the rescue of the 219 young girls abducted by the terrorist group Boko Haram from Chibok Secondary School in Borno State North East Nigeria.
Amongst recognition she has include being named by Financial Times [FT] amongst the most influential women of 2014, was named amongst CNN's  most inspiring woman of 2014 and also named by Ebony Magazine amongst the 2014 100 most influential black women in the world.
Mohammed Bello-Koko (Executive Director, Finance and Administration)
Mohammed Bello-Koko was born on the 25th March 1969 in Koko-Besse Local Government area of Kebbi State. He attended the Federal Government Collage, Sokoto for his Secondary education in 1986 before proceeding to the University of Sokoto for his first degree in Management Studies (B.Sc) in 1992. Mohammed continued at the Usman Danfodio University, Sokoto for his Master's degree in Business Administration (MBA) in 1995.
Mohammed Bello-Koko started his career with FSB International Bank Plc, Port Harcourt from 1996 to 2004 as Executive Trainee-Banking Operations. He rose to several positions amongst which are Banking Officer-Credit and later Senior Banking Officer-Senior Treasury Officer, Senior Banking Officer-Energy Sector (ENSEC) in charge of managing various oil & gas related multinational accounts and sub-contractors. He was Assistant Manager (Credit & Marketing) where he was Head, branch credit risk analyst, and later became Deputy Manager-Branch Manager/Marketing in charge of initiating, processing and monitoring of good quality risk assets, management of existing accounts and providing leadership Training.
He then joined Zenith Bank Plc in 2005 as a Manager-Team Head, Public Sector and Large Corporate. There again he rose to the positions of:-
Senior Manager- Head Public sector Group, where he supervised all the public sector teams in order to grow public sector business in the Rivers State.
Assistant General Manager/Zonal Head where he was Group Head for Public Sector and Zonal head in-charge of Branches under one of Rivers/Bayelsa Zones.
Deputy General Manager and Zonal Head which made him a member of the Bank's Executive Management team, a position he held since 2013 until he proceeded on leave of absence in 2015 before his appointment as Executive Director Finance of the Nigerian Ports Authority.
As a result of his leadership and contributions to the bank, his branches received several awards amongst which are
a) 2nd most Profitable Branch
b) Most profitable Branch Bank wide  July 2015
c) The Best Group OGR and Taxes Collection Bank-wide in 2012
d) Best Branch in Deposit Mobilization (South-South) since 2009
e) Best Revenue Generation (South-South) since 2009
At various time between 2009-2015, Mohammed Bello-Koko was also named the Best Staff in Income (Revenue) Deposit Mobilization (S-S) from 2009-2015. Bello-Koko is a member of Nigerian Institute of Management (NIM) and the Institute of Strategic Management, Nigeria (ISMN). He has attended various causes at renowned International Institution and Training Centers
Onari Brown (Executive Director, Marine and Operations)
Hon. Onari Brown was born on 13th February 1966, in Obonoma, Akuku-Toru Local Government Area, Rivers State.
He attended Government Secondary School, Ke, Degema Local Government Area, Rivers State where he obtained his West African School Certificate (WASC) in 1983.
He also attended Rivers State University of Science and Technology Port Harcourt from where he got his Bachelor of Science (B.Sc.) Management in 1990.
From the same Rivers State University of Science and Technology Port Harcourt, he had his Master of Business Administration (MBA) Management in 2009 and proceeded to obtain Master of Arts in Law and Diplomacy (MALD) in 2013.
He is a Fellow, Chartered Institute of Public Diplomacy and Management.
Onari Brown has a summary of twenty three (23) years of Post Qualification working experience in the Banking, Energy Servicing and Politics/Public Service Sectors. He worked with Oceanic Bank International (Nigeria) Limited various branches across the country in Treasury, Marketing and Operations from 1993 to 2000. He worked with Mipet Services Limited Port Harcourt, as the Head, Personnel/Administration from 2000 to 2004.
He was also a Supervisor, Finance, Budget, Economic Planning, Education and Special Duties in Akuku-Toru Local Government Council, Abonnema 2004 to 2006.
On the Political arena, Onari Brown was a Member Representing Akuku-Toru Constituency 1, in the Rivers State House of Assembly from 2007 to 2015. He served as Chairman and or Member of various Committees, some of which were on, Commission and Agencies, Commerce and Industries, Information and Training, Agriculture and Urban Development.
As a Member of the All Progressives Congress (APC) he served on various Committees, key among them were: the All Progressives Congress (APC) 2019 Presidential Campaign Council (PCC) where he was the Director of Administration; All Progressives Congress (APC) State Congress Committee, Edo State; where he was the Chairman and All Progressives Congress (APC) Membership Registration Committee, Edo State; where he was the Secretary.
His Hobbies include Reading, Sports, Nature watching and International Affairs.
His inspiration is Amazing Grace.
Professor Idris Abubakar (Executive Director, Engineering and Technical Services)
Professor Idris Abubakar was born on the 6th of March, 1969 in Misau, Bauchi State. He started his education at the Central Primary School, Misau, Bauchi State in 1975 and continued his Secondary School in Government Comprehensive Secondary School Misau from 1981 to 1984 and proceeded to Government Science Secondary School, Azare for his GCE in 1986. He further attended the Bauchi College of Arts & Science for the IJMB from 1986-1988. Idris Abubakar continued his education at the Ahmadu Bello University, Zaria, Kaduna State, where he obtained his first degree in Civil Engineering in 1993, his Masters degree in the same field in 1999 and concluded his Ph.D. in 2005.
Professor Idris started his career at the Ahmadu Bello University Zaria in 1995 as an Assistant Lecturer, he continued at the same University as Lecturer II in 1999, Lecturer I in 2004 then became a Senior Lecturer in 2007 and Reader in 2010. He became a Professor in 2013.
During his career at the Ahmadu Bello University, Zaria, Professor Idris was Acting Director, Estate Department in 2006. He was Assistant Dean, Faculty of Engineering from 2007 to 2010 and later became the Head of Department of Civil Engineering from 2010 to 2014. He was a member of Presidential Projects' Assessment Committee from March 2010 to May 2011. He was Director Projects ABUCONS Limited in the Ahmadu Bello University since May, 2016 until his appointment as Executive Director Engineering and Technical Services of the Nigerian Ports Authority.
Professor Idris Abubakar has mentored a lot of people through teaching including the Nigerian Defence Academy during his sabbatical leave from 2014 to 2015 and through direct supervision of Master degree dissertations and Ph.D. theses in his field.  He has examined many Masters Dissertations and Ph.D. theses in other Universities, and has been external examiner to many departments of Civil Engineering of Polytechnics and Universities. He has also been reviewing articles for Publications in both local and international reputable Journals.
Professor Idris Abubakar has several Publications and Articles to his name in Peer Reviewed Journals, official Conference Proceedings and Technical Reports.
Professor Idris has received the Nigerian Ports Authority Prize of Best Final Year Civil Engineering Student, Department of Civil Engineering Ahmadu Bello University, Zaria in 1992/93 session.
---
GENERAL MANAGEMENT TEAM

MADUBUIKE, Mrs. UGO ESTHER

[email protected]

GENERAL MANAGER, MONITORING & REGULATORY SERVICES

WILLIAMS, Mrs. IDOWU ENIOLA

[email protected]

GENERAL MANAGER, PUBLIC PRIVATE PARTNERSHIP

KABIR, Mr. DAUDA EDWARD

[email protected]

GENERAL MANAGER, ABUJA LIAISON OFFICE

AHMED, Mr. YUSUF

[email protected]

GENERAL MANAGER, LAND & ASSET ADMINISTRATION

USORO, Mr. BENEDICT ELISHA

[email protected]

GENERAL MANAGER, CORPORATE & STRATEGIC PLANNING

KOLO, Mr. KABIR MOHAMMED

[email protected]

GENERAL MANAGER, AUDIT

UMAR, Mr. GAMBORO INNOCENT

[email protected]

GENERAL MANAGER, LEGAL SERVICES

CAPTAIN JEROME, BITRUS ANGYUNWE

[email protected]

GENERAL MANAGER, MARINE & OPERATIONS

AKPA, Mrs. EKWUTOS CHRISTIANA

[email protected]

GENERAL MANAGER, MEDICAL SERVICES

MUSA, Mr. YARO SHEHU

[email protected]

GENERAL MANAGER, PROCUREMENT

EZUGWU, Mr. EMEKA SYLVANUS

[email protected]

GENERAL MANAGER, FINANCE

AJIBOLA SYVESTER OLAGOKE

[email protected]

GENERAL MANAGER, ADMINISTRATION

OMIWOLE, Mr. OLUKAYODE MOBOLAJI

[email protected]

GENERAL MANAGER, HSE

UMAR, Mr. ABUBAKAR GARBA

[email protected]
GENERAL MANAGER, TARIFF & BILLING

KHALIL, Mr. MOHAMMED JAMIL

[email protected]

GENERAL MANAGER, SECURITY

EDOSOMWAN, Mr. AIMUAMWOSA ANTHONY

[email protected]
GENERAL MANAGER, SUPERANNUATION

ENGR. NWANKWO SYLVANUS NDUBUISI

[email protected]

GENERAL MANAGER, MD's OFFICE

ALAKIJA, OLASENI ADIO

[email protected]

GENERAL MANAGER, CORPORATE & STRATEGIC COMMUNICATIONS

ENGR. OHAGWA, ANTHONIA

[email protected]

GENERAL MANAGER, ICT